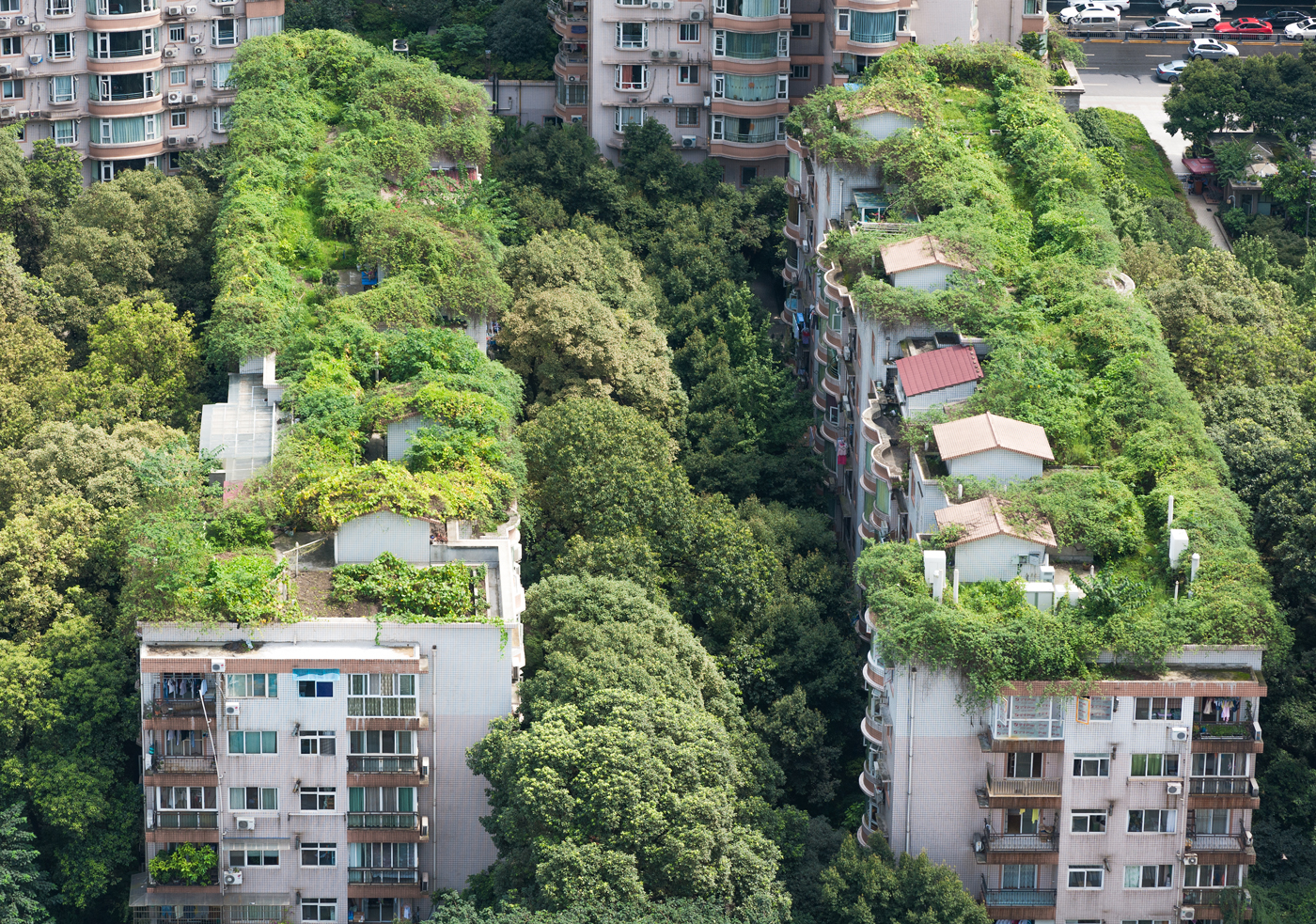 Go straight to Purple-Roof Green Roof Modeler
Urban resilience and our future
Humanity is moving to cities. Currently, more people live in urban areas than in the countryside, and the trend is increasing. We have created an urban jungle, and it's about to get wilder over the years to come.
We also haven't quite figured out how to make this jungle function so that it becomes resilient and sustainable.
One question is how to deal with stormwater. We have created an asphalt, glass and concrete jungle with impervious surfaces. These surfaces hardly have any absorbent properties. How should we capture all that rain that used to be absorbed by the soil and vegetation?
Now, when it rains in a city, the water simply flows down from the roofs and onto the streets. The water isn't absorbed anywhere along its journey. These rain events wash away all the airborne man-made pollutants. Just look at a pile of freshly plowed snow in the parking lot. As that snow pile melts a few days or weeks later, it leaves behind a pile of dirty grey and brown 'muck.' This is a highly polluted runoff that needs to be contained and send off to a water cleaning facility.
Even moderate rain events can result in flooding and sewage systems overflowing.
The storm brings with it all the air pollution and flushes through the streets and, sometimes, basements. The water might even carry bacteria from the sewers, making people sick, or cause substantial financial damage through the sheer force of the water masses causing stream erosion and flooding.
The more we build, the more vulnerable we'll get to flooding, increased heat, and pollution. We become less and less resilient.
However, this must not be the case. Green roofs can be a solution to making lives in cities worth living.
Green roofs can ensure that stormwater is retained and detained and so ensure that sewers won't overflow and that the total amount of water received by the water treatment plants is reduced.
Green roofs also offer economic sustainability: a clear ROI for the individual buyer. Stormwater detention is the key to this. Retention only captures 80% of the frequency of the storms, representing merely 50% of the precipitation. With the right materials, it is possible to capture the remaining storms, using detention, and slow down the water flow to the sewers.
Thus, you ensure that your basement isn't flooded. You save space and money by not having to build overflowing solutions such as bioretention tanks, or ponds. This extra space can be used for further development and investment. It also helps to prevent urban sprawl.